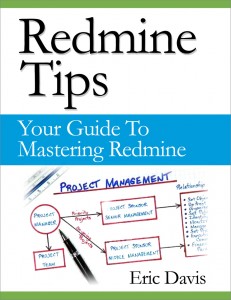 It's finally here…
Redmine Tips is now available for sale!
After almost 12 months of writing, two months of editing, and countless tweaking I'm calling it done (at least for now).
This sucker packs 51 tips into 75 pages with a bit over 13,000 words.
In addition to the PDF ebook, I'm also including the epub and mobi ebook formats so you can stay productive on the go with your iPhone, iPad, Kindle, or Nook (anyone have a Apple Newton I could borrow?).
I have to say, these tips will really take your Redmine expertise to the next level. I re-read everything this weekend and found 8 tips that even I forget to do. And I've been using Redmine for over 4 years now.
Break out of the low productivity rut and become more productive with Redmine Tips.