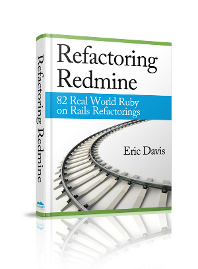 It's been awhile since I posted an update on my Refactoring Redmine ebook, so I wanted to post an update you on how it's been doing.  These numbers are the grand totals since Refactoring Redmine as first launched in September 2010.
11,807 visits
9,363 unique visits
Visitor to sale conversion rate of 1.0904%
128 copies sold
Grossed $4,970, before e-junkie and Paypal fees
It's hard to believe that it's been for sale for almost 10 months now. Sales have slowed down but I'm still getting emails from buyers saying how the book has helped them avoid major code smells. If you have any other questions about the book itself or refactoring Rails, let me know in the comments below.