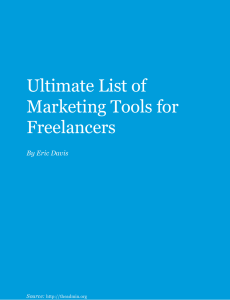 When used correctly, the right tool can produce amazing results.
But sometimes it's hard to find the right tool that fits.
Which is why I created this free list of over 200 freelance marketing tools.
These tools will help you save time, reduce communication screw-ups, and find better clients for your freelance business.
You'll also get access to my weekly training lessons on building your freelance business, 100% free with no obligation. Learn how to:
Describe your ideal client
Explain what skills you have and convert them into sellable services
Build a marketing system that attracts clients to you, instead of having to chase them down
And much, much more.
Download the Ultimate List of Marketing Tools for Freelancers
Eric Davis