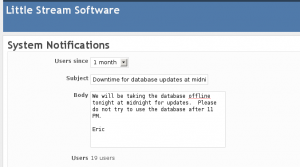 I'm Open Sourcing another Redmine plugin, the System Notification plugin. This is a simple plugin that will let Administrators send emails to a list of users to let them know of important events (e.g. downtime, upgrades). You can check out the details about it on the plugin page on Redmine.org.
I welcome any contributors, the list of proposed features is in my Redmine and can fork my code on GitHub.
---
If you are currently working on a Redmine plugin and need help or have an idea for a plugin you would like developed, please contact me. My company, Little Stream Software, specializes in the development of custom Redmine features and Redmine plugins.
Eric