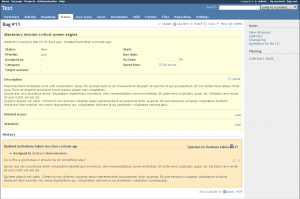 One problem I've noticed with fast paced projects is that details can get lost in all the activity. Shane and Peter noticed that with their Redmine, many times a question would be asked but someone would never answer it. To solve this problem, they sponsored the development of Redmine Question plugin. This plugin will help users keep track of the questions they are asking and what questions others are asking them.
Features
User can ask a question with an issue note
Question can be assigned to be answered by a project member
Filters for the issue list:

Question is assigned to
Question was asked by

Question column for the Issue list showing a preview of all the open questions asked on an issue
Email notification when questions are asked and answered
Getting the plugin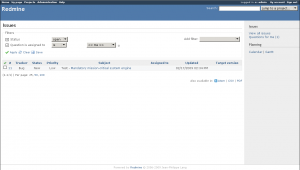 A copy of the plugin can be downloaded from Little Stream Software or from GitHub.
Usage
The question plugin is very easy to use. Just update an issue and select a Member from the question select box right below the issue notes.
License
This plugin is licensed under the GNU GPL v2.
Project help
If you need help you can contact me or create an issue in the Bug Tracker.
Thanks
I would like to thank Shane and Peter for sponsoring this plugin. If you find it useful, send your appreciation their way.
If you are currently working on a Redmine plugin and need help or have an idea for a plugin you would like developed, please contact me. My company, Little Stream Software, specializes in the development of custom Redmine features and Redmine plugins.
Eric